Blog 003. (English version)
Hello everyone.
This time I am going to write about the great nature of Hackney Marshes and other fantastic spots in East London.
It is not too much to say that we wouldn't have been able to survive the 1st UK lockdown, if it wasn't for these refreshing environment.
Lockdown ➡︎ Exploring the nature of Hackney Marshes 
Without the opportunity given by the 1st UK lockdown, I can say that we would not have yet discovered this splendid natural environment in our neighbourhood.
I believe the lockdown divided people into two groups…
The 1st group was the one whose general activities such as…
traveling abroad, eating out, going to see parents who live in far distance to show their babies/small kids, etc.
were restricted by the lockdown, hence the situation was totally frustrating.
On the contrary, the 2nd group,
whose everyday life is generally engaged to a great extent in order to pay their monthly bills,
and often not enough time to see their own kids,
was greatly benefitted by the situation and was able to do the things they normally cannot afford.
Our case was the latter one.
The happy 2nd group.
Everyday was pretty much struggle with kids' home schooling with "Zoom session" which was then new to all of us including kids, parents and teachers.
However, this was a rare opportunity for us to be able to spend a long time with kids.
You can't complain!!!
Anyway, it is physically impossible for growing children with full of energy to stay indoors whole day.
Luckily our daughter had reached the age to be able to pedal her bicycle, so once they managed to have completed their school tasks by early afternoon,
we set out for the nature with snacks and bottles of water!
Speaking of Hackney Marshes, I only had visited there for a few times before the lockdown, just to take kids down for their annual marathon event called "Hackney School's challenge"…
The only impression I had had about the Marshes was a spacious field with a bunch of football goals…
But it turned out to be much more attractive place to visit…
We usually walk from Clapton Pond, where No.38, No.55, No.253 and lots more buses stop, down on the Millfields Road up to the canal,
and once you cross the bridge, it is one of the entrances to the Hackney Marshes.
If you turn right here and walk further, that's where kids' marathon event is usually taken place.
But if you turn left here, there will be some enjoyable spots waiting for you…
You will eventually come to a fork in the road if you walk further down, and then if you take the right fork here, you will come across the River Lea.
The road that goes along with this River Lea leads you to Stratford.
On the sunny beautiful day, cycling on this road through the shadow of tall forest trees with variety of little birds singing is totally blissful.
Cycling is amazing but I also recommend you walking on the trail which is just running by the river.
You will meet lots of interesting birds as you walk through, so if you let your kids to have binoculars, I guarantee they will have an extra-exciting day!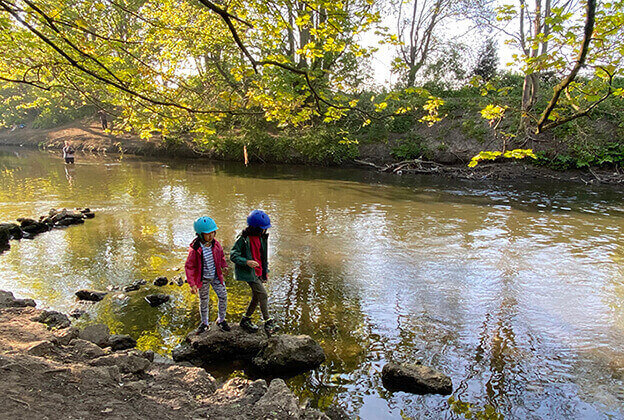 You will also find some tree-climbing spots for children, (some of the trees over there look like mangrove???), so they are great fun opportunities for them.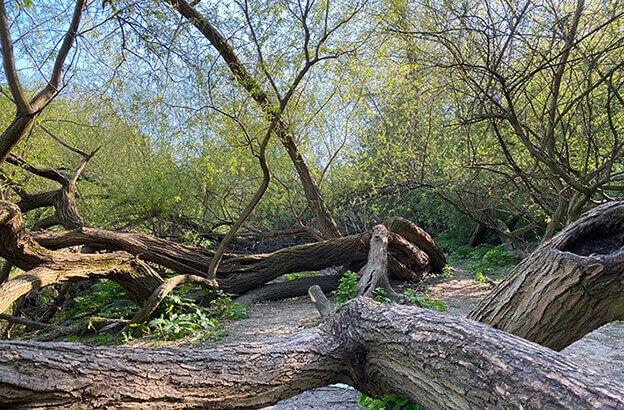 Also you will find this one! (Very popular among the kids in Japan!)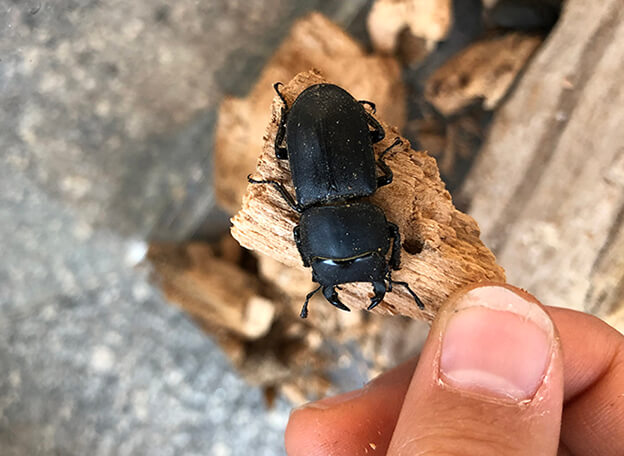 A stag beetle!!! (We had caught loads of them…)
And… I would not really recommend, …but people actually swim in this River Lea!
Quite a few, to be honest…
It's like… how dare all you guys throng to the river and play together during such a deadly situation!!!…
Well… however, I forgot that this was the country where the punk rock was born!
At the end of the day, they don't care about social distance or how many people are dying from coronavirus each day…
Time has gone by, and nowadays, you can see lots of people wearing a mask, …but at this time, we were one of the very few wearing a mask,
and people would look at us rather uncomfortably…
Anyway, when it comes to a great nature, you can expect to find all kinds of plants.
And here is my wife who were born and grew up in a rural mountainous district in Japan, thus she is an expert in spotting edible plants.
The chief commanded us to collect whatever she needed over there…
The following are what we'd found…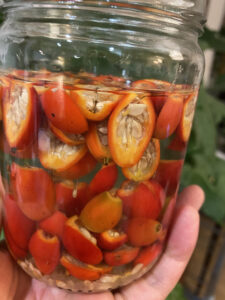 Mugwort (for "yomogi / kusa -mochi" Excellent!!!)
Watercress

(for pasta & salads)

Bracken

(for steamed rice to mix with)

Elderflowers

(for syrup)

Apple, Pear, Blackberry, and Rosehip (photo)

(for jam & sourdough)
According to some mums, somewhere in Hackney Marshes, there is a spot where you can find Wild Garlic,
but the person who knows the place would never tell you…
My wife dragged us around everywhere to find it, but no results were found.
Shame!…
By the way, after entering Hackney Marshes and turned left,
we took right at the fork in the road earlier,
…but if you take the left fork here, there is this amazing area called "Middlesex Filter Beds Nature Reserve" waiting for you.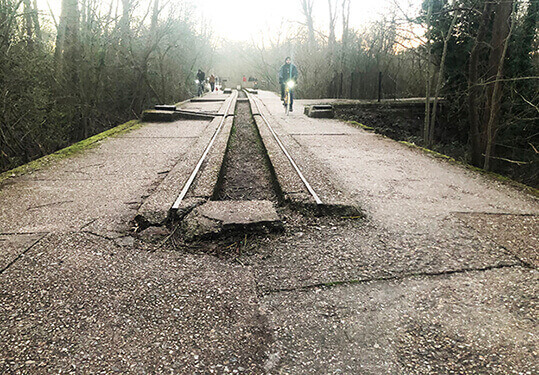 Having been weathered slowly with time, these Victorian industrial heritages are bringing about mysterious vibes in harmony with wildlife habitats,
and remind me of scenes from Japanese animation called "Laputa / (Castle in the sky)"
The place sometimes gives you an impression that as if time had stopped, when not many people are around you and hearing only birds' chirping.
A very relaxing place…
Lee Valley Park
The next one is Lee Valley Park.
Although it is located next to Hackney Marshes, it is not a part of Hackney anymore.
It is actually a part of London Borough of Waltham Forest.
The way to enter the "Lee Valley Park" is…
① If you cross the "Friends Bridge" from Hackney Marshes and then cycle / walk to the West, or…
② There is this park called "North Millfields Recreation Ground" by the Lea Bridge road, and if you walk on the Capital Ring along with the River Lea to the North, you will meet a very narrow bridge to cross… once you have crossed it, you are already there!
Compared to Hackney Marshes' well-maintained green grass, Lee Valley Park is more like natural wild field.
The park is divided into north side and south side by a row of tall trees, and you can find hairy cattle eating and resting on the north side.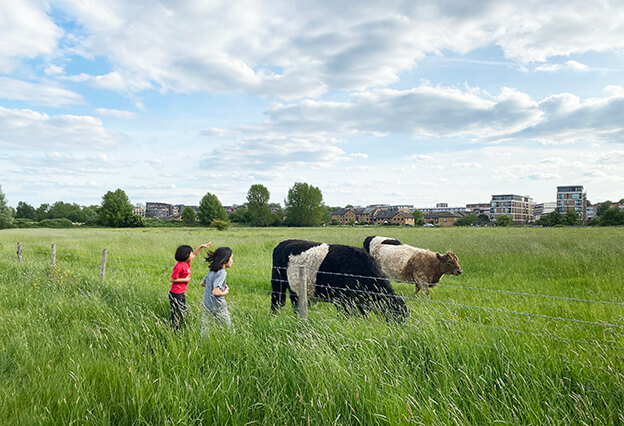 Well, I hate say this, but I hope they are not the ones which are going to be slaughtered for human consumption…
There is a bank on one side of the Lee Valley Park (the other side of River Lea's), and over the bank, there is this horse riding ground called "Lee Valley Riding Centre"
According to their website, they offer lessons for beginners as well as other interesting activities.
Unfortunately, the place is closed at the moment due to the UK's current lockdown situation, so please visit the link above to check their updated news, if you are interested.
But kids (depends on their age?) will be still excited just to drop by and see the horses over there.
Watching how those horses react when the care takers arrive with their truck to feed them, is kind of amusing…
You can sometimes spot some rabbits around the ranch, too.
Incidentally, there are these sinister-looking bushes going on on both sides of the road running on the bank
(which is connected to the one you will be on, if you come from Friends Bridge in Hackney Marshes),
but these bushes actually bear a lots of blackberries in August.
Here again, a regiment of foot with plastic containers was repeatedly sent by our colonel, despite the fact that the attack of thorns kept making us bleeding.
Walthamstow Wetlands
If you keep walking on the road on the bank to the north, through the railway bridge, and walk further about 5-10mins,
you will eventually meet a proper paved road (Coppermill Lane / there is also a car park here).
Turning right here, and within a couple of minutes of walk, you will find one of the entrances to the Walthamstow Wetlands  (the largest urban wetlands in Europe) on your left.
Normally there is a member of the staff around the entrance and giving some informations about the area.
(Free entry! / opening hours 👉 10:30am-5pm(summer time), 10:30am-4pm(winter time))
Walking along (cyclists are asked to dismount and push your bike here) with the stream on your right, you will realize that the view to the left has been blocked by the bank…
What you will find when you go up the bank is a massive reservoir. (Warwick Reservoir)
When you stand in front of it, it is big enough to make you feel …kind of good, but at the same time there is not much going on within view, so you will get bored eventually…
So, you are back on the track, keep walking along with the stream, and after walking past an odd-looking old building (Coppermill Tower), you will see the bridge spanning the stream.
When you cross the bridge, it looks like you can still keep on going, so you continue walking… and then,
…Wow!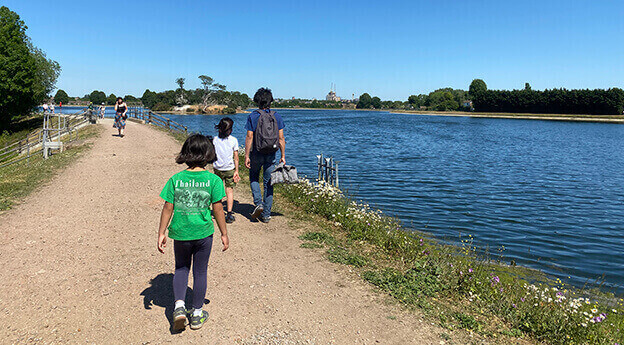 You will find yourself in a spectacular but at the same time very unusual-structured place.
You are now in a truly fascinating place called Walthamstow Reservoir.
There are five sections of reservoir which are divided by the banks, and you basically walk on them.
And within these reservoirs, there are some islands popping out, which seem to be bird's paradise.
As you go on, you will find several spots to go down to access to the wooden wharf.
Surrounded by great nature, these could be the ideal space for your relaxation time to read, meditate, or … even sunbathing.
By the way, we saw a few people fishing here, but because this is a nature reserve, it looks like you need to get a permission to carry it out.
They say that carp type of fish are often caught here…
Anyway, thank you very much for reading till the end!
konkaz