Hi! It's konkaz (@konkazuk) here.
This time I am going to write about the great nature of Hackney Marshes and other fantastic spots in East London.
It is not too much to say that we wouldn't have been able to survive the 1st long lockdown in the UK due to the COVID-19 pandemic, if it wasn't for these refreshing environment.


These beautiful natural areas are worth exploring if you have an opportunity to visit East London.

Hackney Marshes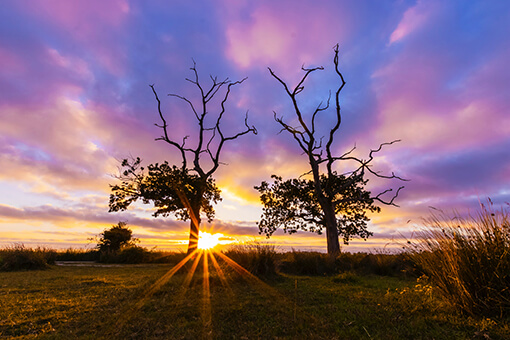 Without the opportunity given by the 1st UK lockdown, I can say that we would not have yet discovered such a wonderful natural environment right in our neighbourhood.


I believe the spring lockdown of 2020 divided people into two groups.


The 1st group consists of frustrated individuals whose general activities were restricted because…
Kids were too young to venture far due to their physical limitations, unable to meet family or friends living elsewhere whom they usually interacted with, unable to travel, and so on.


On the contrary, the 2nd group is the one that benefited from the lockdown.
The situation was reversed, where everyday life is generally engaged to a great extent in order to pay their monthly bills, having little time to spend as a family and even being unaware of what's going on in their neighborhood.


Our case was the latter one… the happy 2nd group!

Everyday was a struggle with kids' homeschooling with "Zoom session" which were new to all of us, including the kids, parents, and teachers, however, it was also a rare opportunity for us to spend a long time with our kids.

Therefore, I have absolutely no complaints whatsoever.


Anyway, it is physically impossible for growing children with full of energy to spend the whole day inside a cramped house.


Luckily, our daughter had reached the age where she could pedal her bicycle. So, once they had completed their school tasks by early afternoon, we set out for nature with snacks and bottles of water!"


Speaking of Hackney Marshes, I only had visited there for a few times before the lockdown, just to take kids down for their annual marathon event called "Hackney School's challenge"…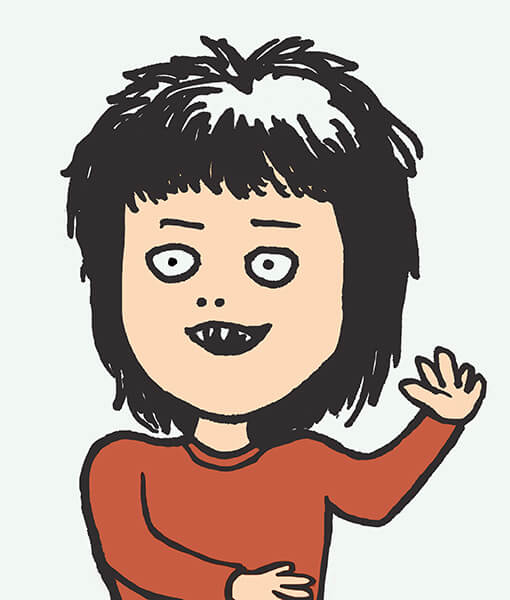 In 2019, newlywed Prince Harry and his wife Meghan opened the event.
and the only impression I had had about the Marshes was a vast grass field with a bunch of football goals…


But it turned out to be much more attractive place to visit…


We usually walk from Clapton Pond, where No.38, No.55, No.253 and lots more buses stop, down on the Millfields Road up to the canal, and once you cross the bridge, it is one of the entrances to the Hackney Marshes.

If head south from here you will find the kids' marathon venue which I mentioned earlier, but if you turn north at this point, there will be some enjoyable spots waiting for you…

Turning north and walking further down, you will eventually come to a fork in the road. Here, you take the right fork and head north and uphill, and you'll come across the River Lea.
And if you follow the river eastward, you will find yourself on an incredibly pleasant cycling path covered by numerous trees, leading all the way to Stratford.



Cycling is fantastic, but I also recommend walking on the trail that runs just alongside the river.

You will encounter lots of interesting birds as you walk along, so if you let your kids have binoculars, I guarantee they will have an even more exciting day!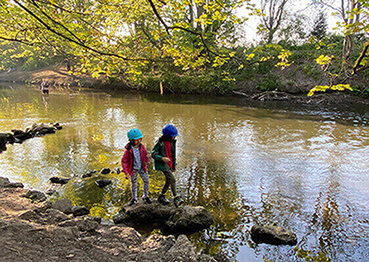 You will also discover some spots for children to climb tree, (some of those trees resemble mangrove???), making it ideal for children's exercise as well.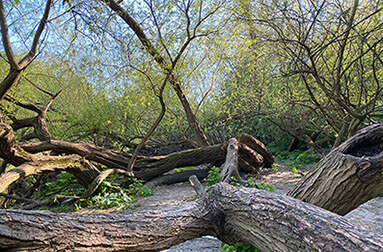 Also you will find this one! (Very popular among the kids in Japan!)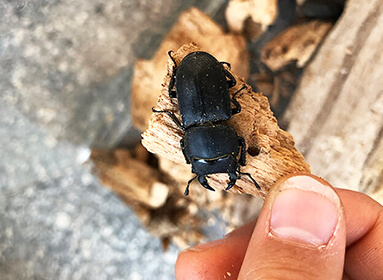 A stag beetle!!! (We had caught loads of them… w)
And… I would not really recommend, …but people actually swim in this River Lea!
Quite a few, to be honest…

(It's like… how dare all you folks throng to the river and play together during such a deadly situation!!!… Well… then again, I forgot that this is the country where punk rock was born! At the end of the day, they don't care about social distance or how many people are dying from coronavirus each day…)
Time has gone by, and nowadays, you can see lots of people wearing a mask, …but back then, we were one of the very few wearing a mask,
Wearing a mask, on the contrary, made us receive suspicious glances.
Anyway, when it comes to a great nature, you can expect to find all kinds of plants.
My wife, who were born and grew up in the mountains of Wakayama, is the one who gets fired up here. As an expert in spotting edible plants, the chief commanded us to collect whatever she needed over there…


The following are what we'd found…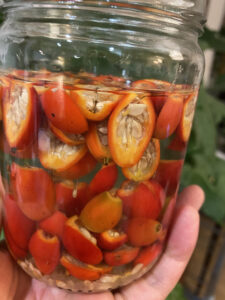 Mugwort (for"yomogi-mochi" 👈 Excellent!!!)
Watercress

(for pasta & salads)

Bracken

(for steamed rice to mix with)

Elderflowers

(for syrup)

Apple, Pear, Blackberry, and Rosehip (photo)

(for jam & sourdough)


According to some mothers, there is a spot in Hackney Marshes where you can find wild garlic, but the person who knows the location would never tell you…
My wife dragged us around everywhere to find it, but no results were found.

Shame!…


By the way, after entering the Marshes and turned northward and walked further, we took right at the fork in the road earlier, however, if you take the left fork here and proceed, a beautiful area awaits you.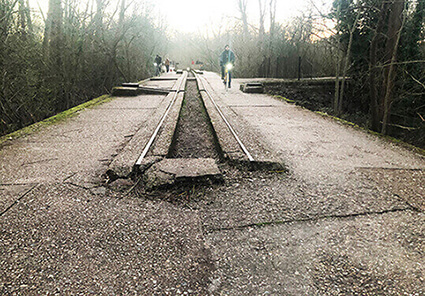 This amazing area is called "Middlesex Filter Beds Nature Reserve" (slightly lengthy name…) and it is essentially a conservation area, to put it simply.
Having been weathered slowly with time, these Victorian industrial heritages bring about mysterious vibes in harmony with wildlife habitats, and remind me of scenes from a Japanese animation called "Laputa / (Castle in the Sky)"
The place can sometimes leave you with the impression that time has stopped, especially when there are few people around and you can only hear the chirping of birds

A very relaxing place…


Lee Valley Park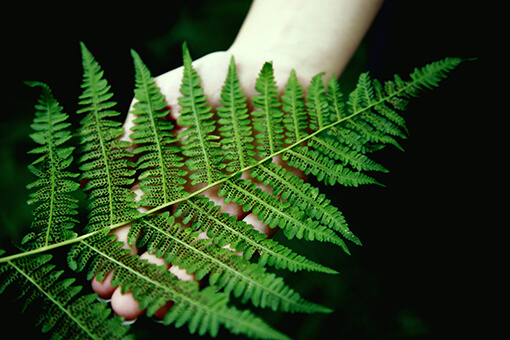 The next one is Lee Valley Park.

Although it is located next to Hackney Marshes, it is not a part of Hackney anymore.


It is actually a part of London Borough of Waltham Forest.


To enter Lea Bridge from the Clapton side, there are two ways…
① crossing the "Friends Bridge" in Hackney Marshes and heading west,

or

② walking along the northern side of Lea Bridge Road through the park, where you'll see a bridge (part of the Capital Ring path?) that leads you across the river.


Compared to Hackney Marshes' well-maintained green grass, Lee Valley Park is more like natural wild field.
The park is divided into north side and south side by a row of tall trees, and you can find hairy cattle eating and resting on the north side.


Well, I hate say this, but I hope they are not the ones which are going to be slaughtered for human consumption…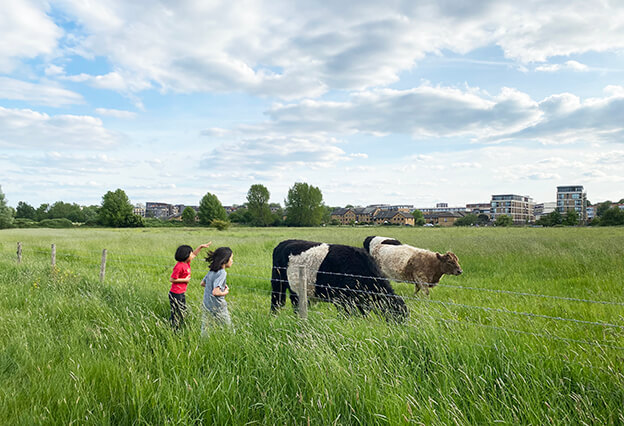 The inner side of Lea Valley Park (opposite the side where the River Lea flows) is slightly elevated and forms a raised embankment. Beyond this, there is a long road (connected to the path that runs through Hackney Marshes by crossing Friends Bridge and heading west), and on the other side of this road, you'll find the "Lee Valley Riding Centre" a place for horse riding.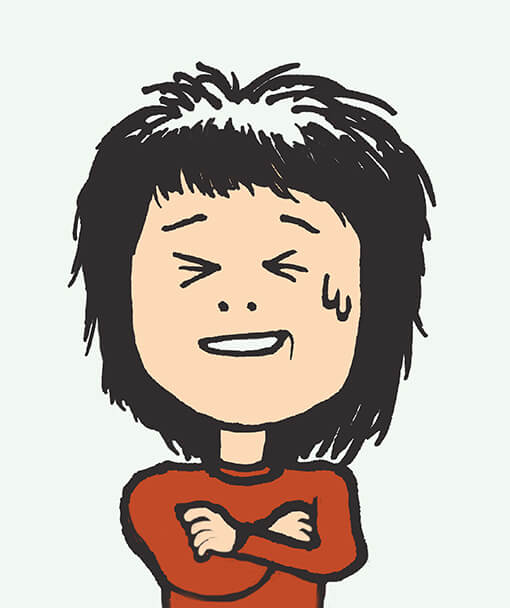 According to their website they offer lessons for beginners, but unfortunately, as of the time I'm writing this blog post, London is in its third lockdown, so the center is closed.

If you have young children, just going to see the horses would likely bring them joy. It's interesting to observe the horses' excited behavior when the keepers come to feed them from the truck.
You can sometimes spot some rabbits around the ranch, too.


Along the embankment running in front of this horse riding center, there's a long stretch of thorny plant thickets. By around August, during summer, these bushes bear plenty of blackberry fruits.
Once again, a regiment of foot armed with plastic containers was repeatedly dispatched by our colonel, even though the onslaught of thorns continued to make us bleed.


Walthamstow Wetlands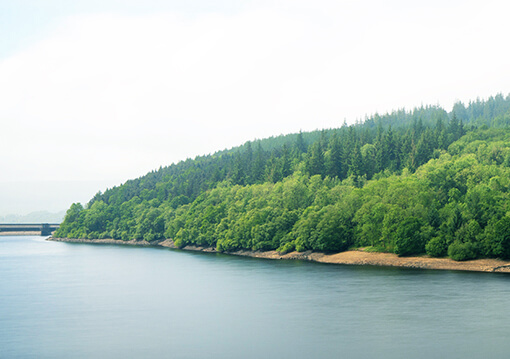 If you keep walking along the path on the embankment, which I mentioned earlier, to the north, passing under a railway bridge, and walk for about 5-10 minutes more, you will eventually reach a paved road.


Turning right here onto Coppermill Lane and walking for just a minute, you'll come across a small entrance on your left where a stream flows. This is the entry point to the Walthamstow Wetlands.  (There are three more entrances available as well!)
In the managed areas, most of the time, staff members are usually around, and they kindly inform you about the closing time.


Opens at 10:30 AM and closes at 4 PM (winter time), and at 5 PM (summer time). / Free entry


Walking along (cyclists are generally asked to dismount and push your bike here) with the stream on your right, you will realize that the view to the left has been blocked by a tall embankment.
What you will find if you climb up the embankment is a massive reservoir. (Warwick Reservoir)
Standing in front of it, the size is substantial enough to create a pleasant sensation (especially with the frequent presence of swans) but at the same time there is not much going on within the view, so you will get bored eventually…

So, you go back on the track, keep walking along with the stream, and after walking past an odd-looking old building (Coppermill Tower), you will see the bridge spanning the stream.


When you cross the bridge, it still seems to continue further ahead, so keep moving forward, and then,


…Wow!

You will find yourself in a spectacular but at the same time very unusual-structured terrain.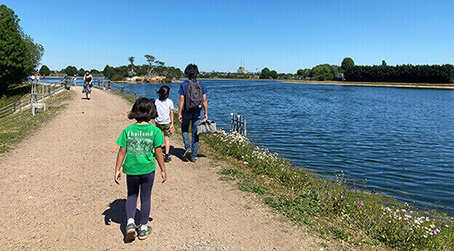 If you Google and take a look at the map, you'll understand that this is quite grand in scale.


This place is called Walthamstow Reservoir and it is essentially a collection of reservoirs, and within these reservoirs, there are some islands popping out, which is, I guess, creating a sense of a paradise for birds.

You basically walk on the embankments that separate the reservoirs, and as you go on, you will find several spots to go down to access to the wooden wharf. On sunny days, it becomes an ideal spot for sunbathing and enjoying relaxation surrounded by nature.



By the way, I also spotted a few people engaged in fishing (which is also referred to as "angling", as I learned for the first time), however, because this is a nature reserve, it looks like you need to get a permission to carry it out.

They say that carp type of fish are often caught here…




Anyway, this time's blog post was about "great nature of East London".
Thank you very much indeed for reading it till the end!


konkaz
You can read this blog post in Japanese from the link below.

👉 ロンドンの観光スポットから少し離れたイーストロンドンの大自然!